Easter Events
Easter Events
4 April 2017 (by Juliet Parker (Mrs Parker))
SMSC - April 2017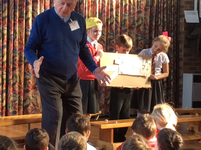 Rev Angus McCormick came into school on Monday 3rd April to lead the school in its Easter assembly. Our regular volunteers joined us for our celebration. Angus shared the Easter story, the school sang three Easter songs and each class performed a seasonal item of song, poetry or rap.
On Tuesday 4th April, our PTFA organised an Easter Egg hunt for everyone. All the children searched for the elusive eggs following a trail of clues ... they were rewarded for their efforts with an Easter Egg.
Happy Easter everyone!