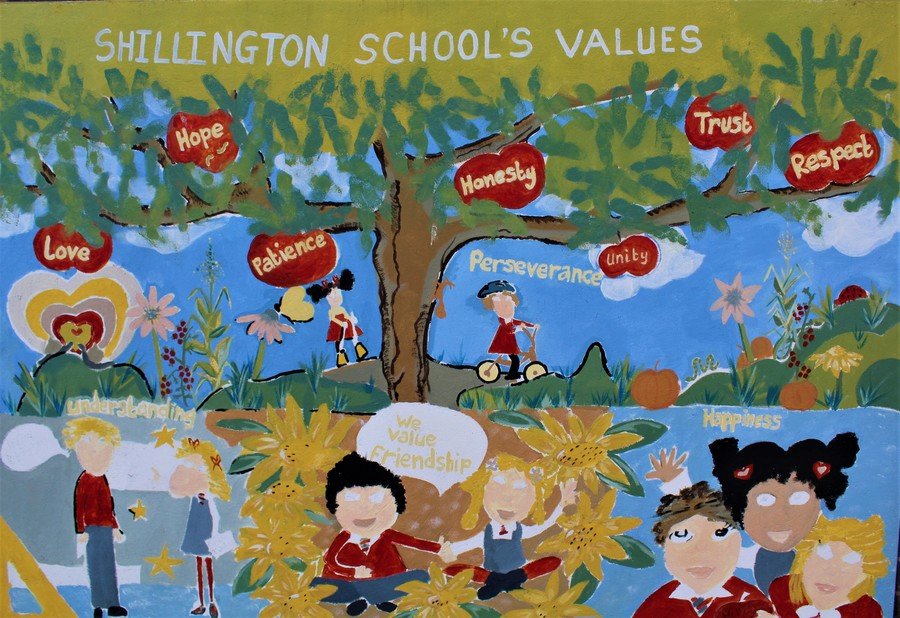 Values Education
We believe that values underpin everything we do at our school and they create a solid foundation for our children to live in society. We follow a 'Values Based Education' programme where the children reflect and act on a different key value every three weeks. We have successfully gained the IVET Values Quality Mark and been re-accredited on two occasions, most recently in July 2016.
Our Values

Excellence

Equality

Inspiration

Peace and friendship

Simplicity/joy

Appreciation

Responsibility

Self-control

Humility

Tolerance/acceptance

Justice

Cooperation

Perseverance

Determination

Happiness

Understanding/ thoughtfulness

Freedom

Courage

Love

Contentment

Trust

Caring

Hope/aspiration

Patience

Respect

Honesty

Unity
We hope to inspire the children to choose their own personal, social, moral and spiritual values and to be aware of ways to deepen and develop them as world citizens. This aligns to the DfE guidance 2014 'Promoting fundamental British Values as part of Spiritual, Moral, Social and Cultural in schools'. In addition to our Values Education, we address the five aspects identified by the DfE in the following ways:
Democracy - Pupil voice (surveys, school council, pupil elections, pupil interviews as part of monitoring)
Rule of Law - School rules, behaviour policy including behaviour steps and consequences, class rules, PCSO visits
Individual Liberty - Positive learning environment, choice of activities, choice of extra curricular clubs
Mutual Respect - Manners, team building activities in all curriculum areas, Values Education
Tolerance - Diverse curriculum, visitors, RE syllabus coverage, celebration days, assemblies
As the school is such a part of the community, and given our underlying belief in co-operation between home and school, we are taking the opportunity to encourage everyone to reflect on positive values and express these values in a practical way. This supports our children in their work with these values.
We give our values real importance by talking about them informally with the children, as well as formally through assembly and in lessons. At school we have a 'Values' apple tree. During our weekly Celebration assembly we recognise those children who have acted out a value by awarding them an apple and adding their name to the tree. When visiting the school you can see the tree and find out more about what the children have been doing.
Enrichment afternoons are held once a term and the whole school goes off timetable to take part in activities arranged around a theme, for example gardening, eco-awareness, sport, democracy.